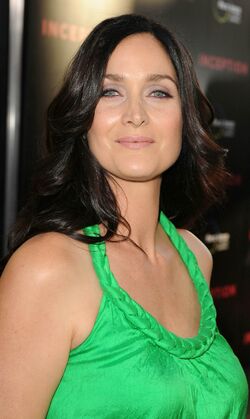 Carrie-Anne Moss portrayed Jeryn Hogarth in the Netflix series Jessica Jones, Daredevil, Iron Fist and The Defenders.
Significant roles
Tara McDonald in Dark Jutice (1991-1993)
Gwen Brown/Mattie Brown in Baywatch (1994)
Carrie Spencer in Models Inc. (1994-1995)
Karin Stoltz in Nowhere Man (1995)
Lucinda Scott in F/X: The Series (1996-1997)
Trinity in The Matrix (1999)
Natalie in Memento (2000)
Bowman in Red Planet (2000)
Caroline Clarmont in Chocolat (2000)
Trinity in The Animatrix (2003)
Trinity in The Matrix Reloaded (2003)
Trinity in The Matrix Revolutions (2003)
Fran Kulok in Suspect Zero (2004)
Jerri Falls in Kidnapped (2005)
Helen Robinson in Fido (2006)
Julie in Disturbia (2007)
Catherine in Normal (2007)
Kelly Hanson in Fireflies in the Garden (2008)
Amanda Bingham in Love Hurts (2009)
Gertrude Verbansky in Chuck (2011-2012)
Claudia Wolf in Silvent Hill: Revelation (2012)
Katherine O'Connell in Vegas (2012-2013)
Admiral Wells in The Clockwork Girl (2014)
Aurelia in Pompeii (2014)
Quotes
Please add some quotes from this performer about their work with Marvel movies!
Ad blocker interference detected!
Wikia is a free-to-use site that makes money from advertising. We have a modified experience for viewers using ad blockers

Wikia is not accessible if you've made further modifications. Remove the custom ad blocker rule(s) and the page will load as expected.