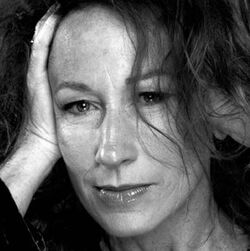 Carla Cassola portrayed Maria Vaselli in Captain America.
Significant roles
Maria in La casa nel tempo (1989)
Dr. Pernath in La setta (1991)
Lena in L'anno del terrore (1991)
Martini in Dove siete? Io sono qui (1993)
Annamaria in Tutti gli anni una volta l'anno (1994)
Caterina in Padrona del suo destino (1998)
Signora Canarutto in Nola (2000)
Nadesdza Jukovic in Soldati di pace (2002)
Maria in Viola fondente (2005)
Carla Sherba in The Torturer (2005)
Tina Longardo in In ascolto (2006)
Bruna in Le ragazze di San Frediano (2007)
Luisa Villani in La mia casa è piena di specchi (2010)
Quotes
Please add some quotes from this perfomer about her work with Marvel movies!
Ad blocker interference detected!
Wikia is a free-to-use site that makes money from advertising. We have a modified experience for viewers using ad blockers

Wikia is not accessible if you've made further modifications. Remove the custom ad blocker rule(s) and the page will load as expected.