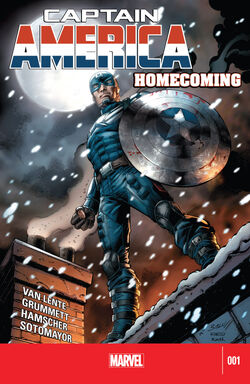 Captain America: Homecoming is a comic book tie-in to Captain America: The Winter Soldier.
Plot
Captain America is coming home. Comics' fans might say he's never left, but we're talking about the movie version of Cap – from Captain America: The First Avenger and Avengers itself. In March 2014, Marvel will be releasing a special one-shot comic titled Captain America: Homecoming set in the Marvel Cinematic Universe featuring the cinematic Steve Rogers and Black Widow returning to the shield-slinging heroes roots: Brooklyn. Written by Fred Van Lente and drawn by Tom Grummett, Captain America: Homecoming shows the two S.H.I.E.L.D. colleagues working together in a story set between Avengers and the upcoming Captain America: The Winter Soldier movies. What brings Cap back to Brooklyn? Memories of course, but what he finds there is some big changes and even a terrorist attack. Truly, Brooklyn never sleeps.
Characters
Ad blocker interference detected!
Wikia is a free-to-use site that makes money from advertising. We have a modified experience for viewers using ad blockers

Wikia is not accessible if you've made further modifications. Remove the custom ad blocker rule(s) and the page will load as expected.