Camp X-Ray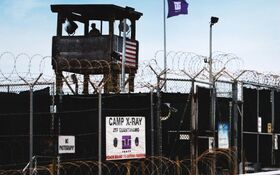 Camp X-Ray was a mutant holding facility.
History
2001: GUANTANAMO BAY MUTANT DETENTION CENTER.
Trask Industries is integral in the construction and secret management of Guantanamo Bay detention center.
The U.S. Government contracts Trask Industries to build Camp X-Ray in Guantanamo Bay, Cuba. The Camp is a detention center for mutants dangerous enough to be deemed national security threats.
At some point the mutant Lucas Bishop escaped from camp x-ray.
Ad blocker interference detected!
Wikia is a free-to-use site that makes money from advertising. We have a modified experience for viewers using ad blockers

Wikia is not accessible if you've made further modifications. Remove the custom ad blocker rule(s) and the page will load as expected.