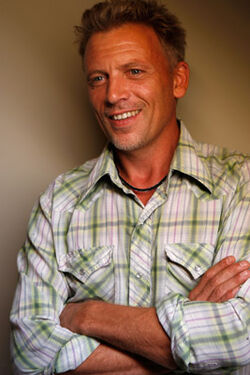 Callum Keith Rennie portrayed Asher Talos in Blade: Trinity.
Significant roles
Johnny Johansson in My Life as a Dog (1995-1996)
Gray Wellman in Nikita (1997)
Det. Stanley Kowalski in Due South (1997-1999)
Newbie in Twitch City (1998-2000)
Det. Bob Marlowe in Da Vinci's Quest (1999-2001)
Dodd in Memento (2000)
Anthony Bellio in Trapped (2001)
Leoben Conoy in Battlestar Galactica (2003)
Jason in The Butterfly Effect (2004)
Leoben Connoy in Battlestar Galactica (2004-2009)
Danny Wildon in The L Word (2006)
Shaw in Code Name: The Cleaner (2007)
Det. McGill in Butterfly on a Wheel (2007)
Walt Braugher in Normal (2007)
Det. Brian Larson in Invisible (2007)
Schuyler in Silk (2008)
Lew Ashby in Californication (2008)
John Wakefield in Harper's Island (2009)
John Wakefield in Harper's Globe (2009)
Leoben Conoy in The Plan (2009)
Det. Ben Sullivan in Shattered (2010)
Quotes
"David Goyer, with whom I had done Blade: Trinity with, he promised he would get me another job later on and he held true to his word, which I felt was fantastic so I got to work with him again which is always fun."
Ad blocker interference detected!
Wikia is a free-to-use site that makes money from advertising. We have a modified experience for viewers using ad blockers

Wikia is not accessible if you've made further modifications. Remove the custom ad blocker rule(s) and the page will load as expected.