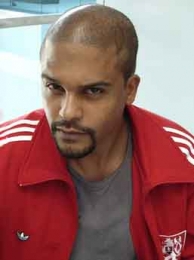 Bumper Robinson portrayed Mondo in Generation X.
Significant roles
Zammis in Enemy Mine (1985)
Leon in Nigt Court (1985-1986)
Philo Quartz in The Flintstones Kids (1986-1988)
Philo Quartz in The Flintstones Kids' Just Say No Special (1988)
Clarence in Amen (1990-1991)
Jackie Jackson in The Jacksons: An American Dream (1992)
Dorian Heywood in A Different World (1992-1993)
O.J. Simpson in The O.J. Simpson Story (1995)
Carter in Teenage Mutant Ninja Turtles (1995-1996)
Ivan Ellis in Living Single (1995-1997)
James in Sabrina, the Teenage Witch (1997-2003)
Jared Harris in Guys Like Us (1998-1999)
Marcus in Grown Ups (1999-2000)
Danny in What's with Andy? (2001-2002)
JT Dunnit in Flatland (2002)
Dwight Conrad in Futurama (2002-2003)
Hotspot in Teen Titans (2005)
Star Boy in Legion of Superheroes (2007-2008)
Bumblebee in Transformers: Animated (2007-2009)
Black Lightning in Batman: The Brave and the Bold (2009-2010)
James Rhodes in The Avengers: Earth's Mightiest Heroes (2010)
Quotes
Please add some quotes from this performer about their work in Marvel movies!
Ad blocker interference detected!
Wikia is a free-to-use site that makes money from advertising. We have a modified experience for viewers using ad blockers

Wikia is not accessible if you've made further modifications. Remove the custom ad blocker rule(s) and the page will load as expected.