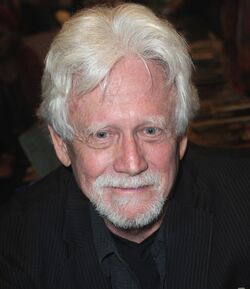 Bruce Davison portrayed Senator Robert Kelly in X-Men and X2: X-Men United.
Significant roles
X-Men - Robert Kelly
X2: X-Men United - Robert Kelly
Quotes
"I don't know what the story is with the third film. I had lunch with Bryan Singer in Vancouver recently and he seems pretty busy. I know he wants to make Logan's Run and he's directing Superman now. I know they're trying to put a script together for X-Men 3, but no one knows how the story is going to evolve."
"I guess I could play Storm if all else fails. I'd just have to get a wig."
External links
Ad blocker interference detected!
Wikia is a free-to-use site that makes money from advertising. We have a modified experience for viewers using ad blockers

Wikia is not accessible if you've made further modifications. Remove the custom ad blocker rule(s) and the page will load as expected.