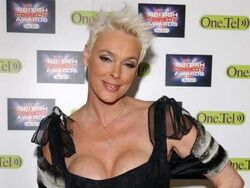 Brigitte Nielsen was cast as She-Hulk in a planned but never-produced film based on She-Hulk. She posed for photos dressed both as She-Hulk and her alter ego Jennifer Walters before the film was cancelled.
Significant roles
Red Sonja in Red Sonja (1985)
Karla Fry in Beverly Hills Cop II (1987)
Maggie Bardok in Murder on the Moon (1989)
Dark Witch in Fantaghirò 2 (1992)
Dark Witch in Fantaghirò 3 (1993)
Dark Witch in Fantaghirò 4 (1994)
Michelle Stone in Compelling Evidence (1995)
Sybil in Codename: Silencer (1995)
Dark Witch in Fantaghirò 5 (1996)
Elizabeth Gast in Doomsdayer (2000)
Amazon Queen in Ronal Barbaren (2011)
Quotes
Please add some quotes from this performer about their work in Marvel movies!
Ad blocker interference detected!
Wikia is a free-to-use site that makes money from advertising. We have a modified experience for viewers using ad blockers

Wikia is not accessible if you've made further modifications. Remove the custom ad blocker rule(s) and the page will load as expected.