Ad blocker interference detected!
Wikia is a free-to-use site that makes money from advertising. We have a modified experience for viewers using ad blockers

Wikia is not accessible if you've made further modifications. Remove the custom ad blocker rule(s) and the page will load as expected.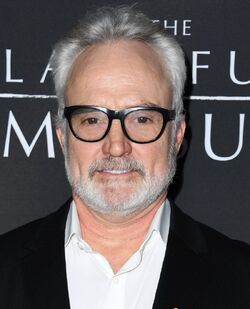 Bradley Whitford portrayed John Flynn in Marvel One-Shot: Agent Carter.
Significant roles
Mike Todwell in Adventures in Babysitting (1987)
Roger in Revenge of the Nerds II: Nerds in Paradise (1987)
Charles Phalen in Young Guns II (1990)
Dr. Tyler in Awakenings (1990)
Randy Slade Scent of a Woman (1992)
Fleck in RoboCop 3 (1993)
Paul Ivanovich in My Life (1993)
Bobby Lee in A Perfect World (1993)
Jamey Collins in Philadelphia (1993)
Eric Gordon in Billy Madison (1995)
Josh Lyman in The West Wing (1999-2006)
Thomas Fink in The Client (1994)
Eric Gordon in Billy Madison (1995)
Trail Tommy Donnelly in The Desperate (1995)
Carl Witnaur in My Fellow Americans (1996)
Miles Lawrence in Masterminds (1997)
Bob Ghery in Red Corner (1997)
Lloyd Charney in Bicentennial Man (1999)
J.J. Camden in Kate & Leopold (2001)
Al in The Sisterhood of the Traveling Pants (2005)
Adam Little Manhattan (2005)
Danny Tripp in Stidio 60 on the Sunset Strip (2006-2007)
Dan Stark in The Good Guys (2010)
Timothy Carter in The Mentalist (2011)
Steve Hadley in The Cabin in the Woods (2012)
Don DaGradi in Saving Mr. Banks (2014)
Quotes
To be added