Bor Burison
was the son of Buri, the father of
Odin
, the grandfather of 
Thor
and ruler of
Asgard
.
Biography
"Bury it deep - somewhere no one will ever find it."
―Bor Burison on the Aether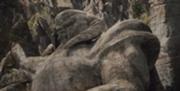 Bor fought and defeated the Dark Elves eons ago and hid the Aether somewhere that no one should have been able to find.
During a daring escape from Asgard, Bor's statue was destroyed by Thor while piloting a Dark Elf ship with Loki congratulating his adopted brother for "decapitating their grandfather.
Relationships
Appearances/Actors
Marvel Cinematic Universe (1 film)
Behind the scenes
To be added
Trivia
To be added
Gallery
Thor: The Dark World