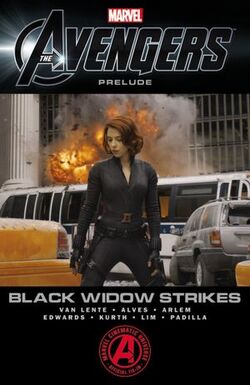 Black Widow Strikes is a three-part comic book prequel to The Avengers.
Plot
A new Black Widow solo adventure from the Marvel Cinematic Universe! Before Natasha assembles with the Avengers Initiative, see her travel back to her homeland to match wits and fists with a deadly admirer in this hard-hitting espionage adventure set between the events of Iron Man 2 and Marvel's The Avengers
Characters
Covers
Ad blocker interference detected!
Wikia is a free-to-use site that makes money from advertising. We have a modified experience for viewers using ad blockers

Wikia is not accessible if you've made further modifications. Remove the custom ad blocker rule(s) and the page will load as expected.