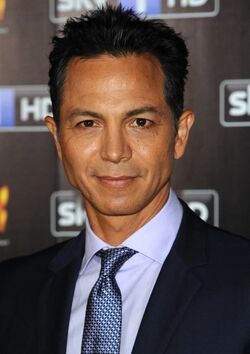 Benjamin Bratt portrayed Jonathan Pangborn in Doctor Strange.
Significant roles
Sgt. Rosendo Juarez in Juarez (1987)
Officer Dave Ramirez in Police Story: Gladiator School (1988)
Esteban in Lovers, Partners & Spies (1988)
Tony Maldonado in Knightwatch (1988-1989)
Eduardo Cruz in Nasty Boys (1989-1990)
Claude in Bright Angel (1990)
Unknown in Capital News (1990)
Felix in One Good Cop (1991)
Carlos in Chains of Gold (1991)
Nakai Twobear in Shadowhunter (1993)
Paco Aguilar in Blood In Blood Out (1993)
Officer Alfredo Garcia in Demolition Man (1993)
Benito Garza in Texas (1994)
Benito Garza in James A. Michener's Texas (1994)
Captain Ramírez in Clear and Present Danger (1994)
Ranger Johnny in The River Wild (1994)
Detective Rey Curtis in Law & Order (1995-1999, 2009)
Detective Rey Curtis in Homicide: Life on the Street (1996-1999)
Jim Mercer in Woman Undone (1996)
Abel in Follow Me Home (1996)
Detective Rey Curtis in Exiled: A Law & Order Movie (1998)
Ben Cooper in The Next Best Thing (2000)
Damon Black in The Last Producer (2000)
Lt. Ted Santen in Red Planet (2000)
Eric Matthews in Miss Congeniality (2000)
Juan Obregón in Traffic (2000)
Arno in After the Storm (2001)
Miguel Piñero in Piñero (2001)
Wade Handler in Abandon (2002)
Carlos in The Woodsman (2004)
Tom Lone in Catwoman (2004)
Lt. Col. Jim Tisnewski in E-Ring (2005–2006)
Matt Schramm in Thumbsucker (2005)
Lt. Col. Henry Mucci in The Great Raid (2005)
Dr. Juvenal Urbino in Love in the Time of Cholera (2007)
Leonard "Len" Bonner in Trucker (2008)
Dr. Jeremy Stone in The Andromeda Strain (2008)
William Banks in The Cleaner 2008-2009)
Manny in Cloudy with a Chance of Meatballs (2009)
Himself in The People Speak (2009)
Che Rivera in La Mission (2009)
Narrator in American Experience (2009)
Javier Delgado in Modern Family (2010-2015)
Dr. Jake Reilly in Private Practice (2011–2013)
Juan Carlos "El Topo" Pintera in Snitch (2013)
Jed in The Lesser Blessed (2013)
Eduardo Perez / El Macho in Despicable Me 2 (2013)
Manny in Cloudy with a Chance of Meatballs 2 (2013)
Steve Navarro in 24: Live Another Day (2014)
Lor-Zod/Hernan Guerra/Superman in Justice League: Gods and Monsters (2015)
Pope in Ride Along 2 (2016)
John Baker in Special Correspondents (2016)
Roberto Alcaino in The Infiltrator (2016)
Quotes
Please add a list of quote from this performer about their work in Marvel Movies!