Ad blocker interference detected!
Wikia is a free-to-use site that makes money from advertising. We have a modified experience for viewers using ad blockers

Wikia is not accessible if you've made further modifications. Remove the custom ad blocker rule(s) and the page will load as expected.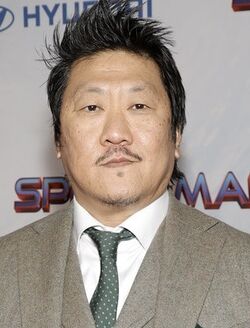 Benedict Wong will portray Wong in the upcoming Doctor Strange.
Significant roles
Frankie Li in Supply & Demand (1997)
DS David Chiu in Metropolitan Police (1997-2002)
Frankie Li in Supplie & Demand (1998)
Terry Cheung in tlc (2002)
Errol in 15 Storeys High (2002-2004)
Pete Cheng in State of Play (2003)
Trey in Sunshine (2007)
Kung Sang in Grow Your Own (2007)
William Kwan in Largo Winch (2008)
Thompson in Moon (2009)
Li in Spirit Warriors (2010)
Prime in The IT Crowd (2010)
Shen Yue in Covert Affairs (2011)
Karma in The Lady (2011)
Vincent in Top Boy (2011-2013)
Ravel in Prometheus (2012)
Mr. Choy in Redemption (2013)
Kublai Khan in Marco Polo (2014-2016)
Quotes
"I'm certainly not going to be the tea-making manservant. We're heading in a different direction. He's more of a drill sergeant."
"There isn't any martial arts for Wong in Doctor Strange actually, he's more of a drill sergeant to Kamar-Taj. He's one of the masters of sorcery."