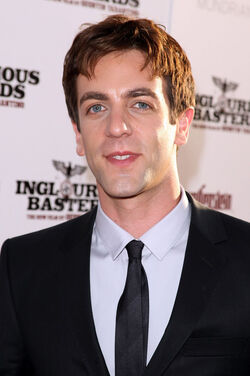 B.J. Novak portrayed Alistair Smythe in The Amazing Spider-Man 2.
Significant roles
Ryan Howard in The Office (2005-2012)
Pfc. Smithson Utivich in Inglorious Basterds (2009)
Ryan Howard in The Office: The 3rd Floor (2010)
Robert Sherman in Saving Mr. Banks (2013)
Quotes
"I'm in a couple of scenes. Yeah, I was never told whether or not I could say. I can say that I work at Oscorp. And I am someone from the comic books, someone from the original. So, yeah, I'm somebody. I wouldn't say I'm pivotal, but I'm not an extra, either."
"It was kind of overwhelming. I showed up on set and there is so much secrecy that I didn't even get the full script. I had to sort of do my own thing about my character. I was able to talk to Marc about what I thought I was piecing together but it was cool to be part of something so global and alive in the imaginations of so many people."
"I did find some overlap, unfortunately, that I could draw on. Ryan [from Office] was also sort of drunk on power at a very young age, and I think that's the story of this character I play here."