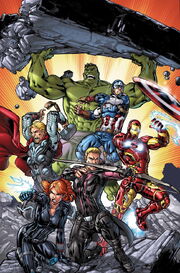 Avengers: Operation HYDRA #1 is a digital comic set before Avengers: Age of Ultron showing The Avengers taking down a HYDRA splinter cell.[1]
Plot
Before next summer's blockbuster film, join the Avengers – Captain America, Iron Man, Thor, Hawkeye, Black Widow, and the Hulk-- as they set off on an all-new adventure against a secret HYDRA splinter cell!
Characters
Covers
To be added
References
Ad blocker interference detected!
Wikia is a free-to-use site that makes money from advertising. We have a modified experience for viewers using ad blockers

Wikia is not accessible if you've made further modifications. Remove the custom ad blocker rule(s) and the page will load as expected.