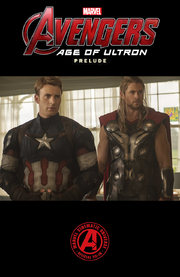 Avengers: Age of Ultron Prelude is a comic mini-series set before Avengers: Age of Ultron.[1]
Plot
The Avengers make their explosive return to the big screen this spring, and we've got everything you need to prepare right here! First, relive the historic first meeting between Marvel's mightiest heroes as Loki's plot to gain ultimate power sparks a worldwide manhunt, a vicious battle against the invading Chitauri in the heart of New York City and the founding of the mighty Avengers! Next, thrill to an all-new Infinite-style adventure in the Marvel Cinematic Universe! What world-shaking threats have the Avengers battled since their last film? And can anything prepare them for the looming peril of the mad mechanoid known as Ultron?
Characters
To be added.
Covers
To be added
References
Ad blocker interference detected!
Wikia is a free-to-use site that makes money from advertising. We have a modified experience for viewers using ad blockers

Wikia is not accessible if you've made further modifications. Remove the custom ad blocker rule(s) and the page will load as expected.