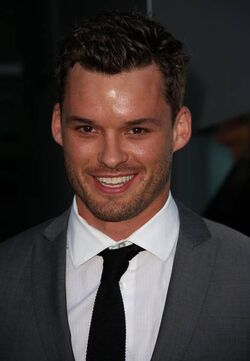 Austin Nichols portrayed Miles Lydon in Agents of S.H.I.E.L.D. episode "Girl in the Flower Dress".
Significant roles
Griffen Grayson in Holiday in the Sun (2001)
Kyle in Six Feet Under (2002)
Charlie Darwell in Pasadena (2002)
J.D. in The Day After Tomorrow (2004)
Jake Hammond in Wimbledon (2004)
Jackson Holden in Surface (2005-2006)
Jerry Armstrong in Glory Road (2006)
Morgan Earp in Deadwood (2006)
Roderick Usher in The House of Usher (2006)
Neal Cassady in Luz del mundo (2007)
John Monad in John from Cincinnati (2007)
Noah Barnett in Friday Night Lights (2007)
Julian Baker in One Tree Hill (2008-2012)
Ed Griffith in Prayers for Bobby (2009)
Cooper in Beautiful Boy (2010)
Edward in Five (2011)
Mr. Ross in LOL (2012)
Luke Harris in The Mob Doctor (2012-2013)
Emory Roberts in Parkland (2013)
Tommy Wheeler in Ray Donovan (2013-2014)
Quotes
Please add a list of quote from this performer about their work in Marvel Movies!