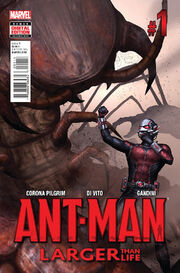 Ant-Man: Larger Than Life
is a digital comic set before
Ant-Man
and includes 
Henry Pym
trying to tame a Bullet Ant.
[1]
It is set to be released on June 24, 2015.
Plot
Part 1
Join Hank Pym, a.k.a. ANT-MAN, as he learns that a little experiment can land him in BIG trouble! Can Ant-Man tame something as painfully formidable as the Bullet Ant before it's too late?
Characters
Covers and Images
References
Ad blocker interference detected!
Wikia is a free-to-use site that makes money from advertising. We have a modified experience for viewers using ad blockers

Wikia is not accessible if you've made further modifications. Remove the custom ad blocker rule(s) and the page will load as expected.