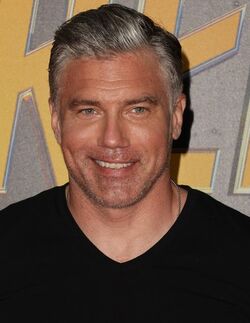 Anson Mount portrayed Blackagar Boltagon/Black Bolt in the ABC TV series Inhumans.
Significant roles
Please add a list of Anson Mount's significant roles!
Quotes
"I actually have to do more preparation when it comes to scenes in which I sign, and I can't use American Sign Language," "Because he's not from Earth, he wouldn't know American Sign Language, so I'm making my own sign system." "is a leader who is actually forced to understand not just the strength of his voice, but the potential catastrophe of his voice," "He literally has to meditate an hour every night before going to bed so he doesn't talk in his sleep."
Ad blocker interference detected!
Wikia is a free-to-use site that makes money from advertising. We have a modified experience for viewers using ad blockers

Wikia is not accessible if you've made further modifications. Remove the custom ad blocker rule(s) and the page will load as expected.