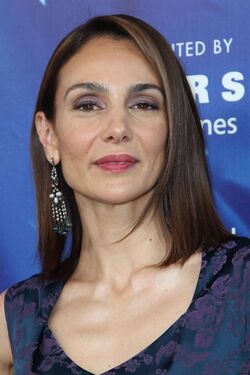 Annie Parisse portrayed Martha Connors in The Amazing Spider-Man but her scenes were ultimately cut out of the theatrical release.
Significant roles
Wendy in On the Q.T. (1999)
Geena in Big Apple (2001)
Tammy Sizemore in Third Watch (2002)
Julia Lindsey Snyder in As the World Turns (2002)
A.D.A. Alexandra Borgia and Jasmine Blake in Law & Order (2002-2006)
Jeannie in How to Lose a Guy in 10 Days (2003)
Gina Zal in NYPD 2069 (2004)
Elise Ashton in Pagans (2004)
Taylor Stevens in Beverly Hills S.U.V. (2004)
Sarah in Friends (2004)
Agent Dawes in National Treasure (2004)
Morgan in Monster-in-Law (2005)
Katherine in Prime (2005)
Angie in Blackbird (2007)
Anne in Definitely, Maybe (2008)
Delphina Adams in Tickling Leo (2009)
Teresa Rusk in Fringe (2010)
Nora in My Own Love Song (2010)
Lena Basilone in The Pacific (2010)
Daphne in The Big C (2010)
Andy in Rubicon (2010)
Quotes
Please add some quotes from the performer about their work in Marvel Movies!
Ad blocker interference detected!
Wikia is a free-to-use site that makes money from advertising. We have a modified experience for viewers using ad blockers

Wikia is not accessible if you've made further modifications. Remove the custom ad blocker rule(s) and the page will load as expected.