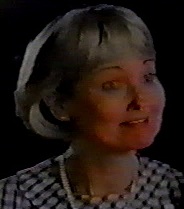 Annie Gagen portrayed Mary Storm in The Fantastic Four.
Significant roles
Alice in Quincy M.E. (1983)
Josie in General Hospital (1983)
Miriam Banks in Second Chance (1988)
Bunny Willingham in Days of Our Lives (1997)
Quotes
"I hardly remember much of it... my daughter was a baby and I was only willing to take short term jobs. I know I was on the phone to home a lot checking on her. I do remember the costumes, hair and make-up which I thought were terrific. ... and I have absolutely not one picture from it! The casting directors were dolls and the young cast extremely attractive. It was exciting auditioning at Roger Corman's company (the legend) and working on a film for his company."
"I felt bad when I read all the back story about how they had no intention of releasing it. Those young actors and Alex Hyde-White seemed very positive and excited about the success and future of it... I ran into Alex later as his son was at my daughter's pre-school but we never spoke of the Fantastic Four. I felt like that was a very sad episode having never even finished it and it sitting on a shelf somewhere. Someday I hope to see it, if for nothing else, out of curiosity."
Ad blocker interference detected!
Wikia is a free-to-use site that makes money from advertising. We have a modified experience for viewers using ad blockers

Wikia is not accessible if you've made further modifications. Remove the custom ad blocker rule(s) and the page will load as expected.