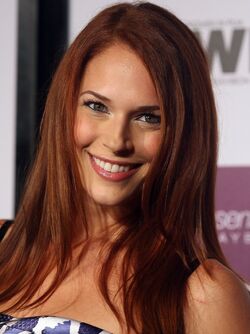 Amanda Righetti portrayed a S.H.I.E.L.D. Agent in Captain America: The First Avenger.
Significant roles
Hailey Nichol in The O.C. (2003-2005)
Tessa Lewis in North Shore (2004-2005)
Jenna Moretti in Reunion (2005-2006)
Jocelyn in Pipeline (2007)
Ariel Wolfe in Return to House on Haunted Hill (2007)
Isabel in Role Models (2008)
Grace Van Pelt in The Mentalist (2008-2011)
Whitney Miller in Friday the 13th (2009)
Quotes
Please add some quotes from this performer about their work in Marvel movies!
Ad blocker interference detected!
Wikia is a free-to-use site that makes money from advertising. We have a modified experience for viewers using ad blockers

Wikia is not accessible if you've made further modifications. Remove the custom ad blocker rule(s) and the page will load as expected.