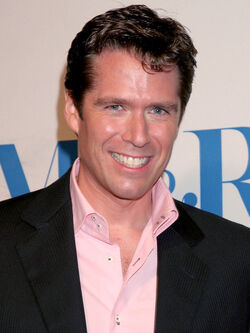 Alexis Denisof portrayed The Other in The Avengers and Guardians of the Galaxy.
Significant roles
Lord John Rossendale in Sharpe's Revenge (1997)
Lord John Rossendale in Sharpe's Justice (1997)
Lord John Rossendale in Sharpe's Waterloo (1997)
Steve Banner in Highlander: The Series (1997)
Wesley Wyndham-Pryce in Buffy the Vampire Slayer (1999)
Wesley Wyndham-Pryce in Angel (1999-2004)
Sandy Rivers in How I Met Your Mother (2006-2014)
Mirror Master in Justice League: Doom (2012)
Benedick in Much Ado About Nothing (2012)
Trivia
Denisof is a frequent collaborator of The Avengers director Joss Whedon.
In the sitcom How I Met Your Mother, Denisof plays news anchor Sandy Rivers, whose co-anchor Robin Scherbatsky is played by Cobie Smulders (Maria Hill).
While speaking with IGN in 2012, Denisof hinted at possibly playing the Other in future Marvel films. Mentioning that he had acknowledge that there were "very cool conversations" going on about The Avengers follow-up, noting his optiism that he will be playing the Other sooner, rather than later. It has been confirmed that Denisof will portray him in Guardians of the Galaxy.
Quotes
"A seed is certainly planted there for all to see. Of course, I can't say much more than that. However there is a lot of talking going on right now about where it's all gonna go."
"I'm the character that sort of sets up the movie in the beginning and I have a scene in the middle with Loki set on the alien world where we have an argument. And then for the final scene of the picture I report as it were to Thanos about how it all went wrong. "I'm certainly on the villain team, Loki and The Other have a relationship. We've struck a deal, but the deal doesn't deliver, so there are ramifications."
Ad blocker interference detected!
Wikia is a free-to-use site that makes money from advertising. We have a modified experience for viewers using ad blockers

Wikia is not accessible if you've made further modifications. Remove the custom ad blocker rule(s) and the page will load as expected.