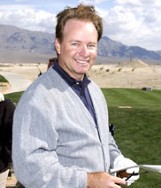 Alex Hyde-White portrayed Mr. Fantastic in The Fantastic Four and Thornally in Agents of S.H.I.E.L.D. Episode "Purpose in the Machine".
Significant roles
Romeo in The Tragedy of Romeo and Juliet (1982)
Henry Jones in Indiana Jones and the Last Crusade (1989)
Mr. Kesner in Catch Me If You Can (2002)
Maj. Gen. Ambrose E. Burnside in Gods and Generals (2003)
Archer Coe in Murder 101 (2006), Murder 101: College Can Be Murder (2007)
Quotes
"The great thing about Reed Richards is that he's a mildly psychotic and dysfunctional superhero and a human being as well... To play the deepest thinker in the Marvel Universe is quite an honor... The way the arm extends is a real trick. When I get ready to throw a punch to Dr. Doom, I have the plaster cast on my shoulder that is rigged to a hydraulic... My real arm is at my side, sort of gripped back, and controls this arm that extends and holds it in place. So after six or 12 takes of this, its pretty heavy and really cinched tight. It was much more of an effort for Richards to throw a punch than I think Stan Lee intended."
Ad blocker interference detected!
Wikia is a free-to-use site that makes money from advertising. We have a modified experience for viewers using ad blockers

Wikia is not accessible if you've made further modifications. Remove the custom ad blocker rule(s) and the page will load as expected.