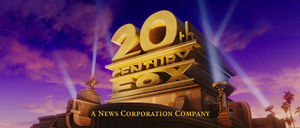 20th Century Fox is the film production and distribution company that currently owns the rights to the X-Men, Fantastic Four, and related characters. 20th Century Fox formerly owned the rights to Iron Man, purchasing them from Universal Pictures in 1996 and selling them to New Line Cinema in 1999.
20th Century Fox is owned by 21st Century Fox after the defuncted of News Corporation.
All live-action films produced by 20th Century Fox based on Marvel Comics have been co-produced by Marvel Studios.
In November 2017, Disney is planning on buying Fox to acquire the rights to the X-Men and Fantastic Four.
Productions
X-Men
Fantastic Four
Co-productions
Ad blocker interference detected!
Wikia is a free-to-use site that makes money from advertising. We have a modified experience for viewers using ad blockers

Wikia is not accessible if you've made further modifications. Remove the custom ad blocker rule(s) and the page will load as expected.