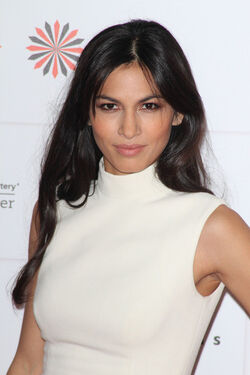 Élodie Yung portrayed Elektra Natchios in Daredevil and The Defenders.
Significant roles
Jade Perrin in La vie devant nous (2002-2003)
Laura Maurier in Les bleus: premiers pas dans la police (2006-2010)
Su in Little Wenzhou (2009)
Tao in Banlieu 13: Ultimatum (2009)
Miriam Wu in The Girl with the Dragon Tattoo (2011)
Jinx in G.I. Joe: Retaliation (2013)
Hathor in Gods of Egypt (2016)
Quotes
"We think Elektra is kind of a sociopath. This world is a game for her, like a chess game. What motivates her is what she wants. She'll use anything … to get to her goal. On the other hand, we wanted to create a character with different layers. I think Elektra is not a bad person. She's not a good person. She's a person with different traits."
"I love Elektra. I really have a special place in my heart for her. It was very enjoyable for me to discover her and to adapt her for this project and bring myself to this character. So I have a special spot for her. Having my own show -- it's not something that I think of, it's not. I think I would choose to do things because they are interesting, because I like a character or because it's very well written. Or because it makes sense. So that's my answer."
"I would love to appear in The Defenders. I don't know -- because hopefully she'll maybe be on the bad side. I don't know -- I don't know what they'd do with Elektra in The Defenders but that would be a good dynamic I think -- to be confronted by these four superheroes and I think it would be interesting. I'd be curious to see what they do."
Ad blocker interference detected!
Wikia is a free-to-use site that makes money from advertising. We have a modified experience for viewers using ad blockers

Wikia is not accessible if you've made further modifications. Remove the custom ad blocker rule(s) and the page will load as expected.